Capabilities overview
ClickUp is a customizable productivity platform that replaces other workplace apps for all users and all departments in an organization.
| Supported capability | Required plan | Details |
| --- | --- | --- |
| Passwordless SSO | Enterprise plan | High SSO tax |
| Password manager | Any | Auto-fill / Auto-capture |
---
Prerequisites
For ClickUp configuration you will need to obtain SAML metadata values for your idemeum tenant. Specifically you will need to obtain the following parameters:
Identity Provider Entity ID
Identity Provider SSO URL
Public X509 Certificate (PEM format)
The instructions for how to obtain these parameters are available below.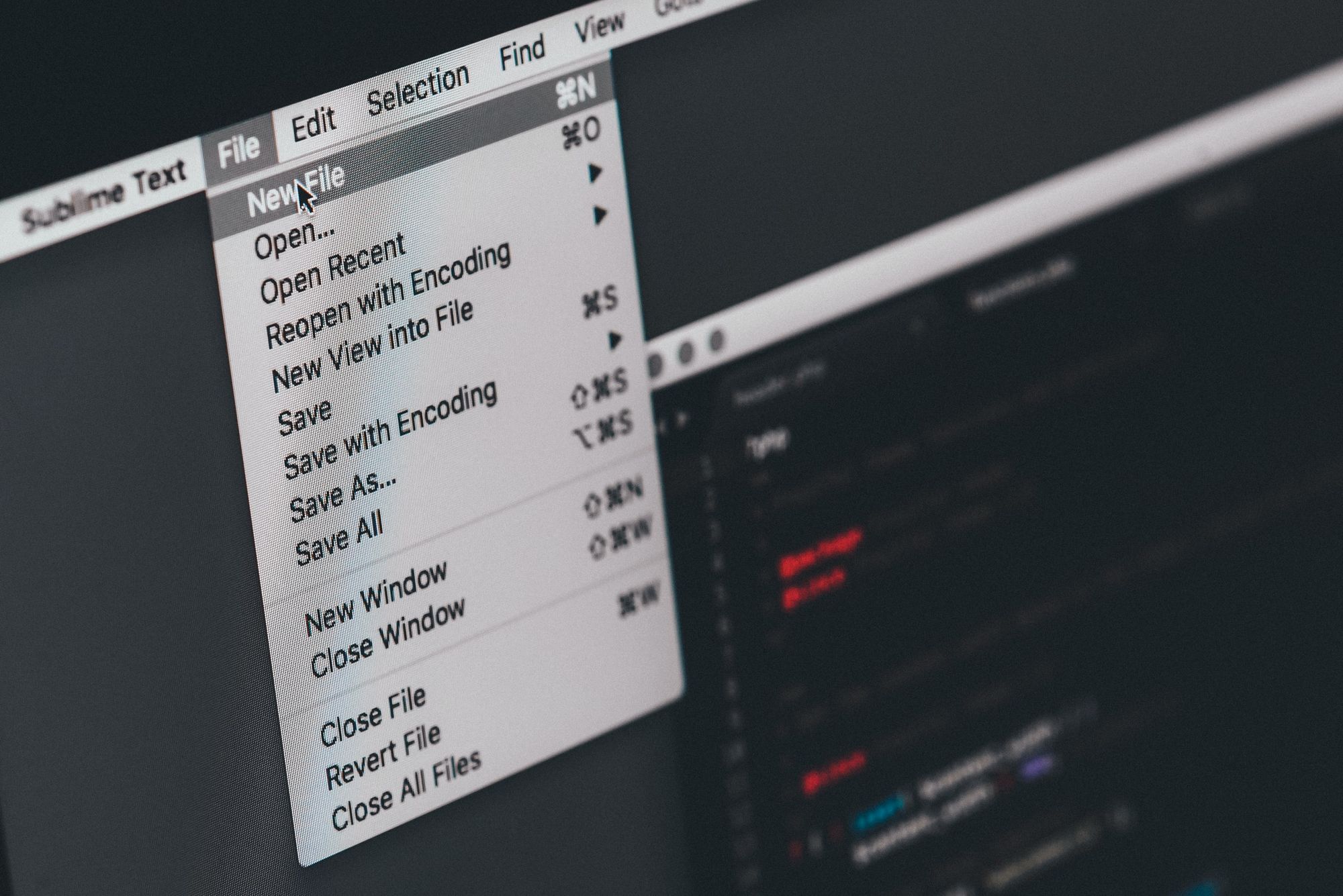 ---
Passwordless Single Sign-On (SAML)
Configure SSO in ClickUp
Access your ClickUp portal
Navigate to Settings -> Security & Permissions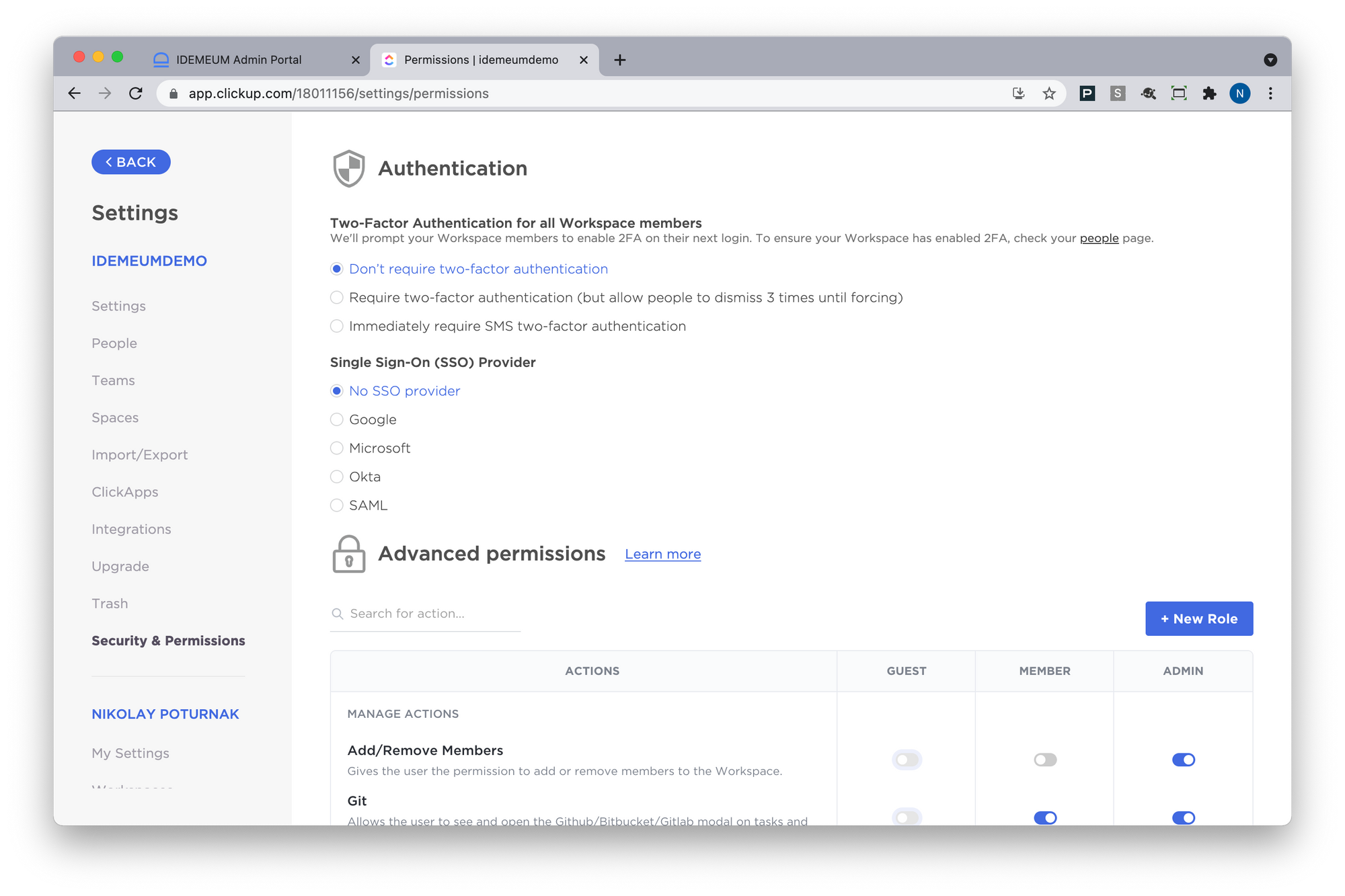 In the Single Sign-On (SSO) Provider configuration section click SAML
Copy the following parameters as you will need them for idemeum configuration:

Audience URI (SP Entity ID)
Single sign on URL
SP Certificate
Now you will enter the metadata values that you obtained from prerequisites section:

Paste Identity Provider Entity ID into Issuer URI (IDP Entity ID)
Paste Identity Provider SSO URL into Login URL
Paste Public X509 Certificate (PEM format) into IDP Public Certificate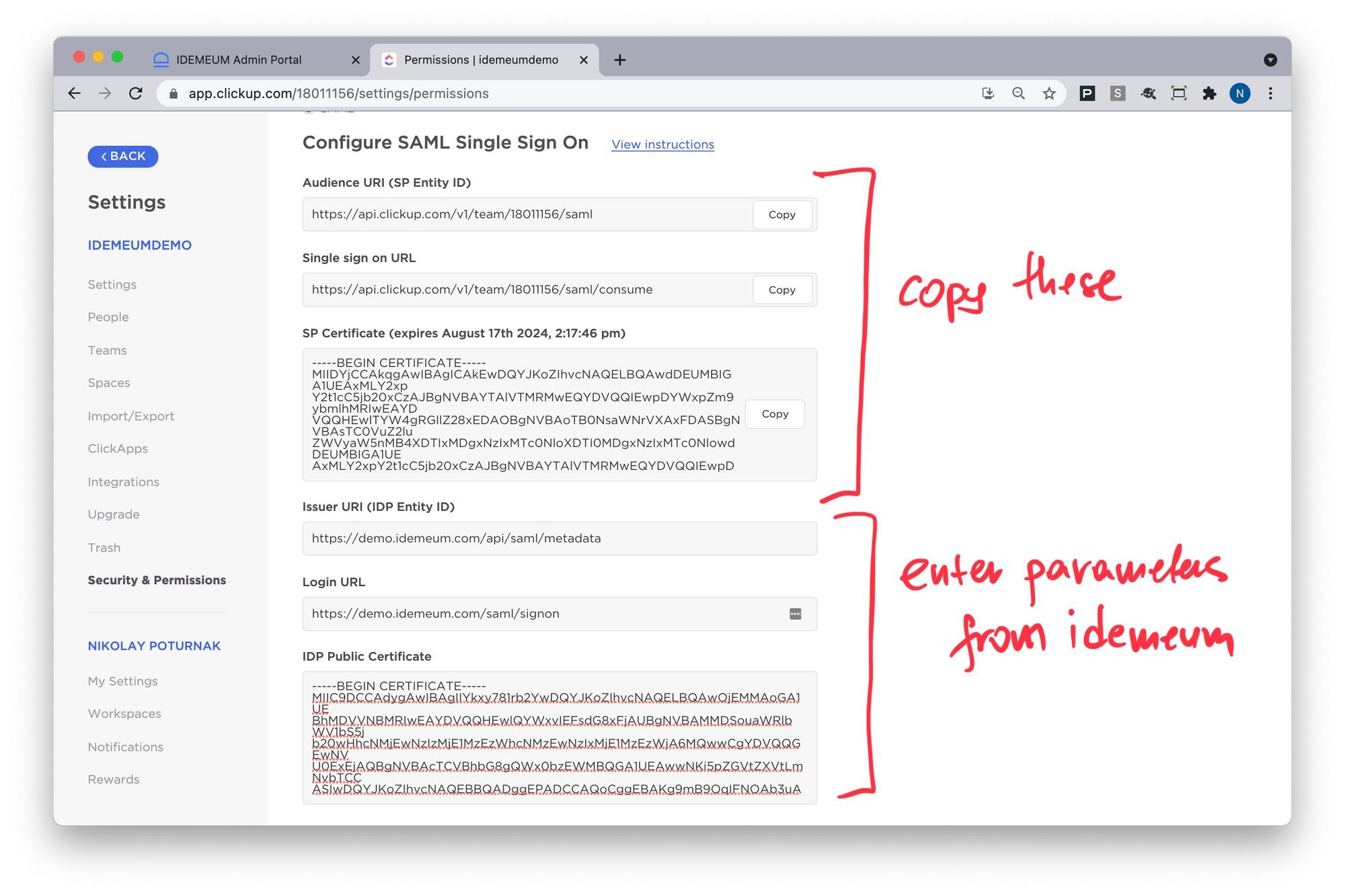 Now we will access idemeum and configure SAML integration for ClickUp there
Configure SSO in idemeum
Navigate to your idemeum admin portal at https://[your domain].idemeum.com/adminportal
Click Applications in the left menu
Search for ClickUp application and click Add App
Click SAML at the top navigation menu
Now we will enter SAML configuration values from ClickUp (obtained from ClickUp admin configuration portal)
For Assertion Consumer Service URL paste Single Sign On URL
For Audience URI paste Audience URI (SP Entity ID)
For Service Provider Certificate paste SP certificate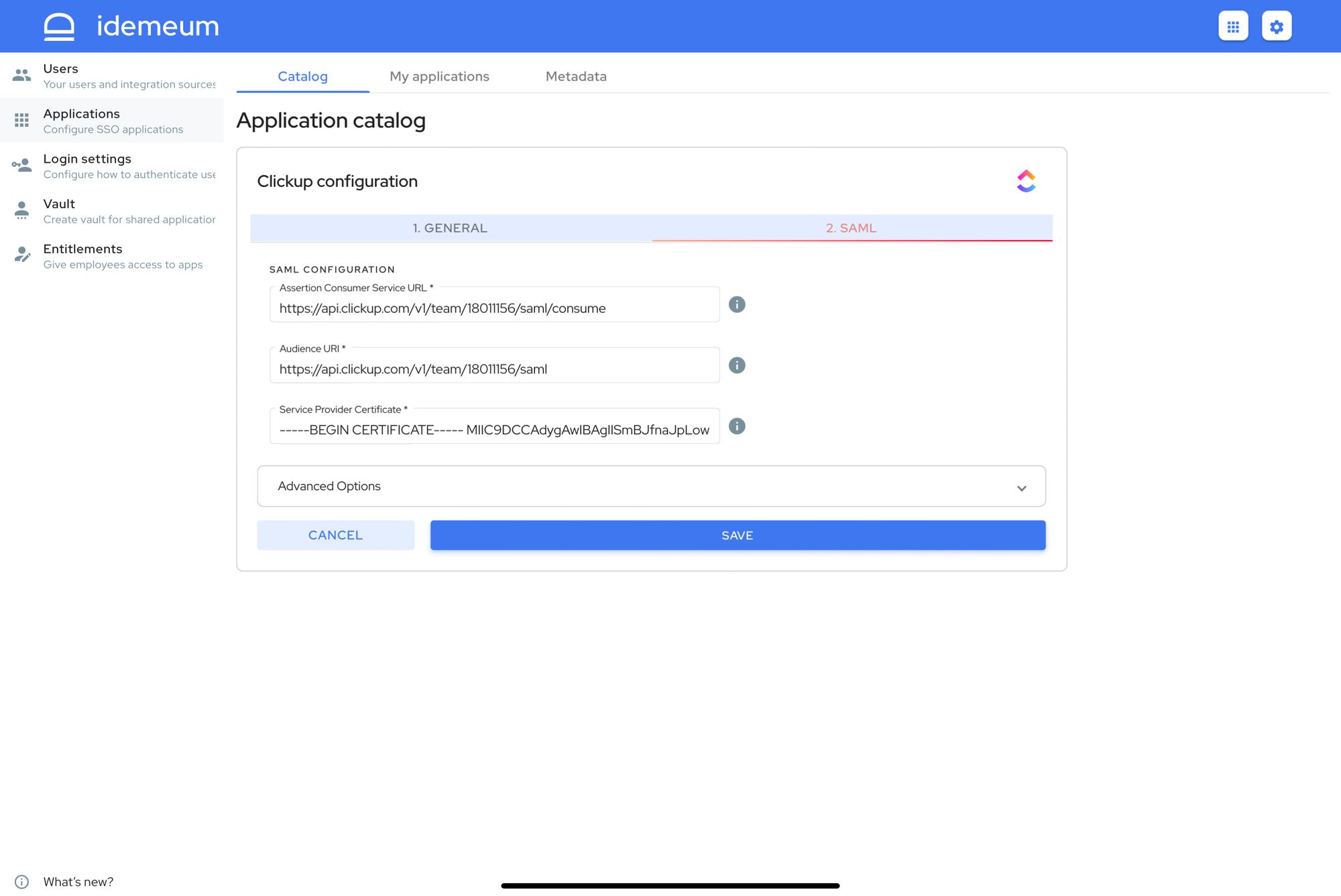 Testing SSO
Navigate back to ClickUp and click Authenticate with SAML to complete setup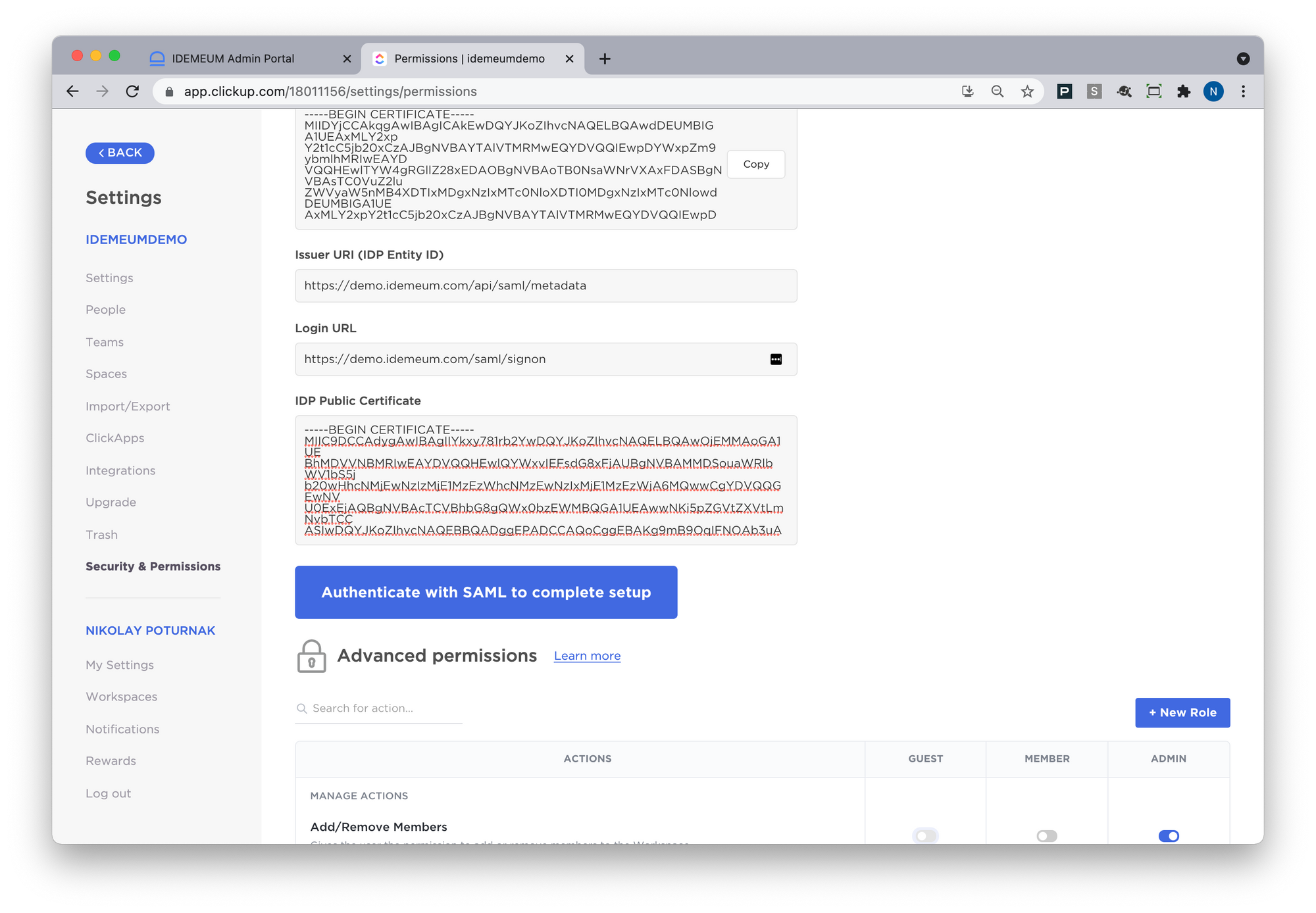 The pop up will open to authenticate with idemeum and if successful your configuration will be saved.
You can also configure Login Policy for SAML to be optional or required to authenticate your employees to ClickUp.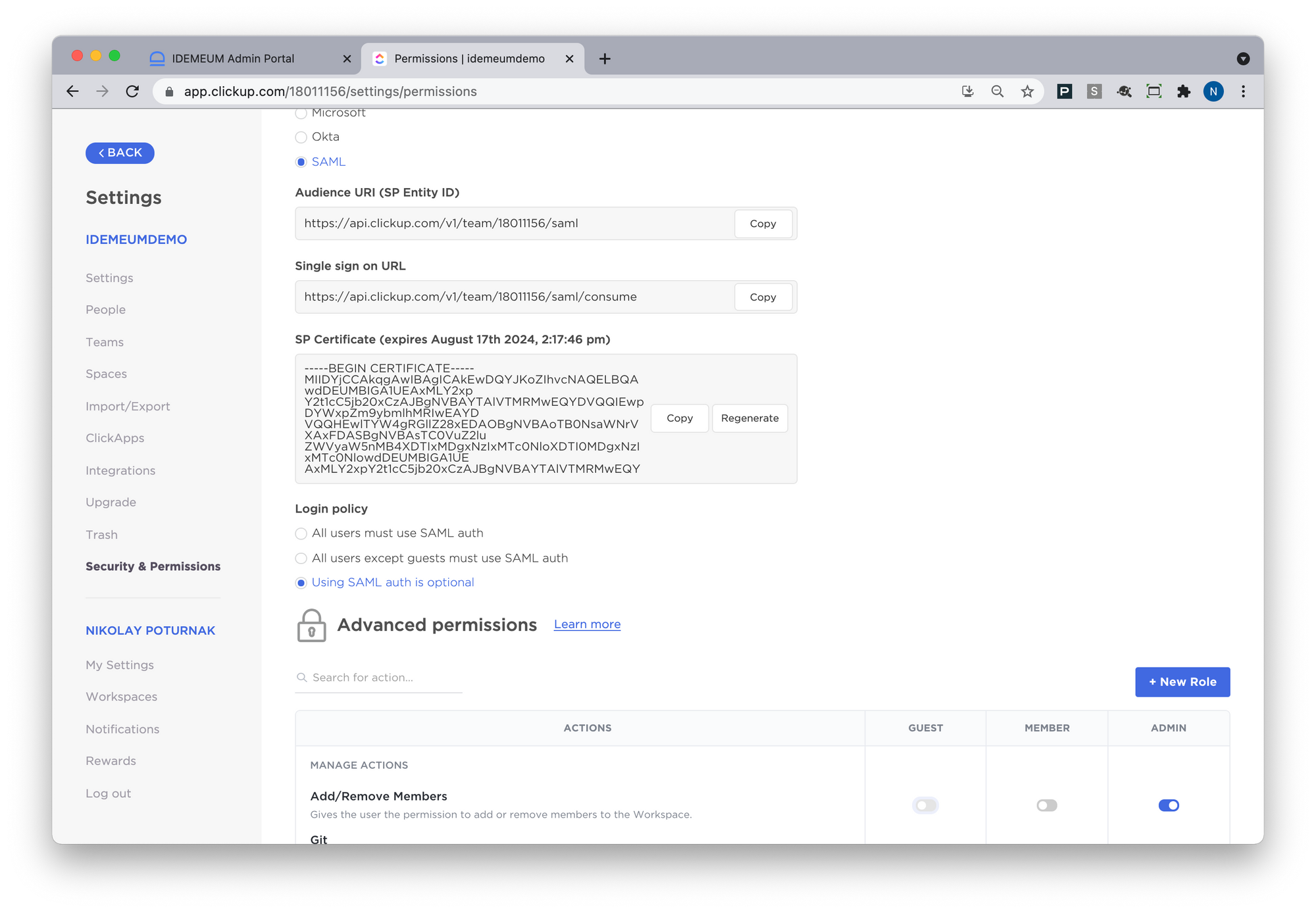 ---
Application entitlements
Before users can access applications you need to make sure you entitle applications to them. In idemeum admin portal navigate to Entitlements section to assign applications to your employees.