Capabilities overview
We can integrate Ubiquiti Wi-Fi with idemeum Cloud Radius infrastructure. When users will be connecting to company Wi-Fi, they can login with Passwordless MFA instead of typing username and password.
In this integration guide we will be setting up idemeum Cloud Radius and connecting it with Ubiquiti Wi-Fi deployment. You can learn more about idemeum Cloud Radius service here.
Create Ubiquiti application in idemeum
Navigate to idemeum admin portal
Access Applications and then search for Ubiquiti Wi-Fi Radius application
Click Add app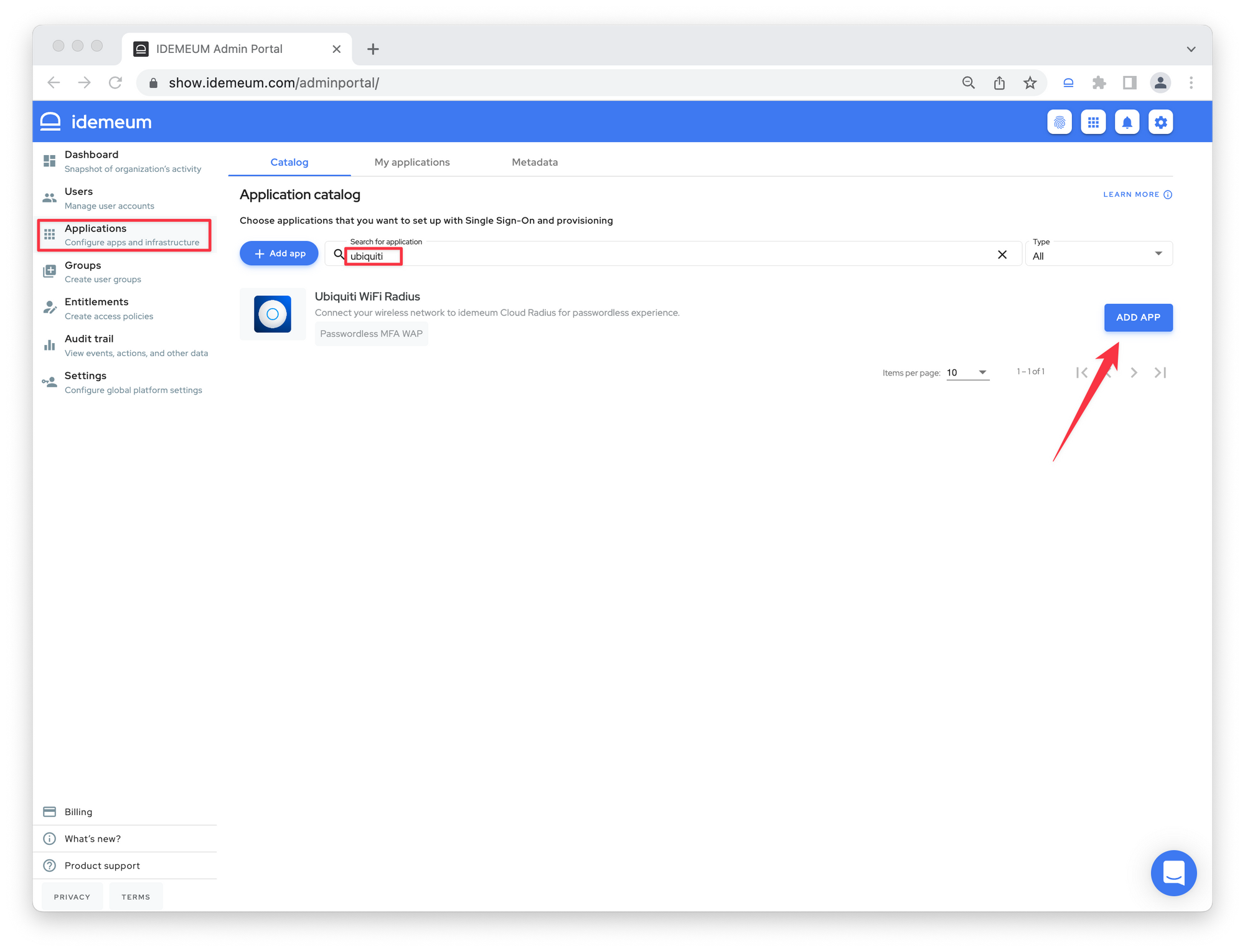 Enter the following information:

Client IP - this is the IP address of your wireless controller / router that will be sending Radius requests. Typically this is the public IP address of the router. Sometimes it might be the internal IP address of the gateway.
Shared secret - generate shared secret. You will later use it in Ubiquiti. This secret allows your Ubiquiti gataeway to authenticate using idemeum Cloud Radius infrastructure. You can click on the gear icon to generate random secret value.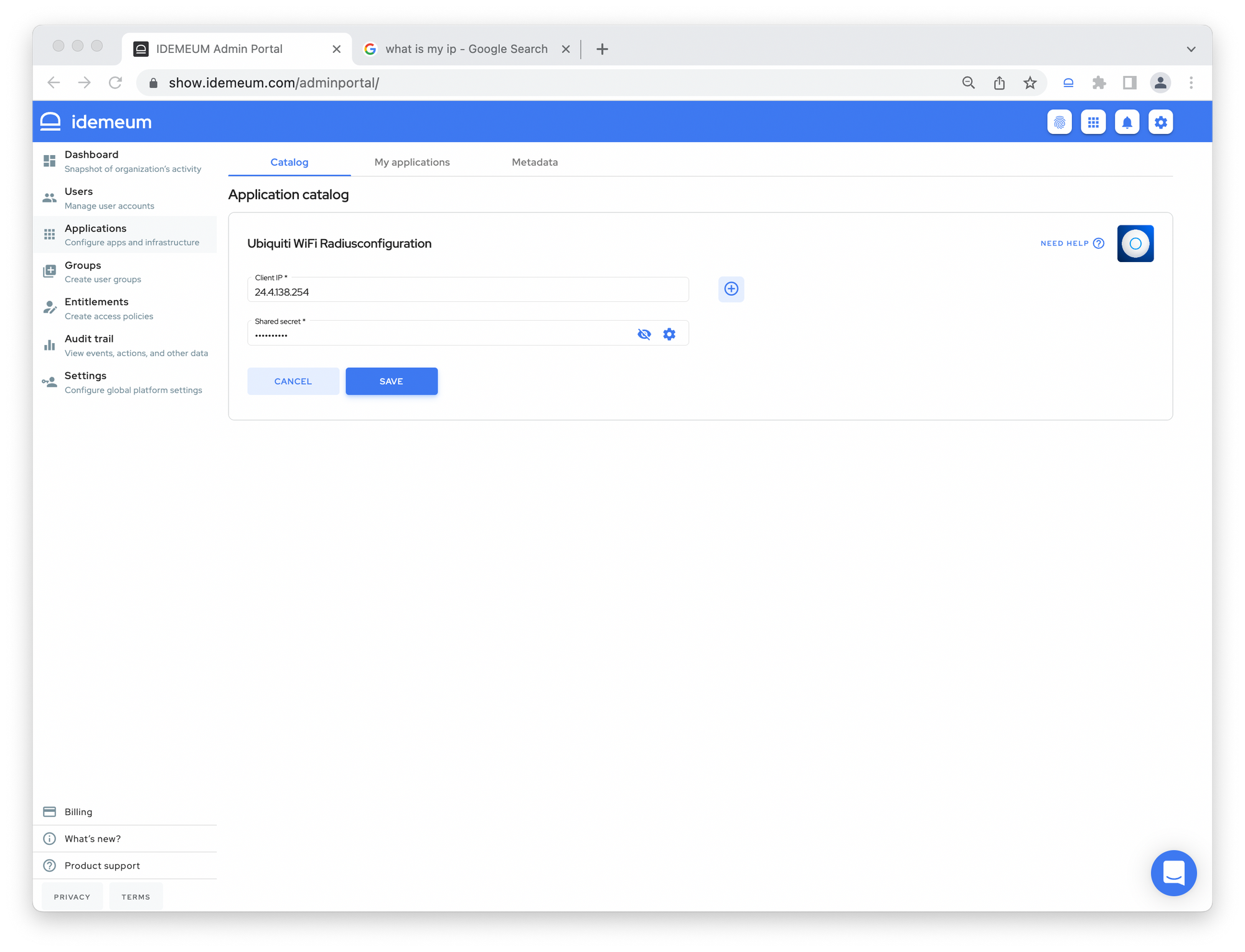 Click Save to save Ubiquiti application
Set up integration in Ubiquiti
Access Ubiquiti dashboard at https://unifi.ui.com
Access Settings -> Profiles -> Radius
Click Create New RADIUS Profile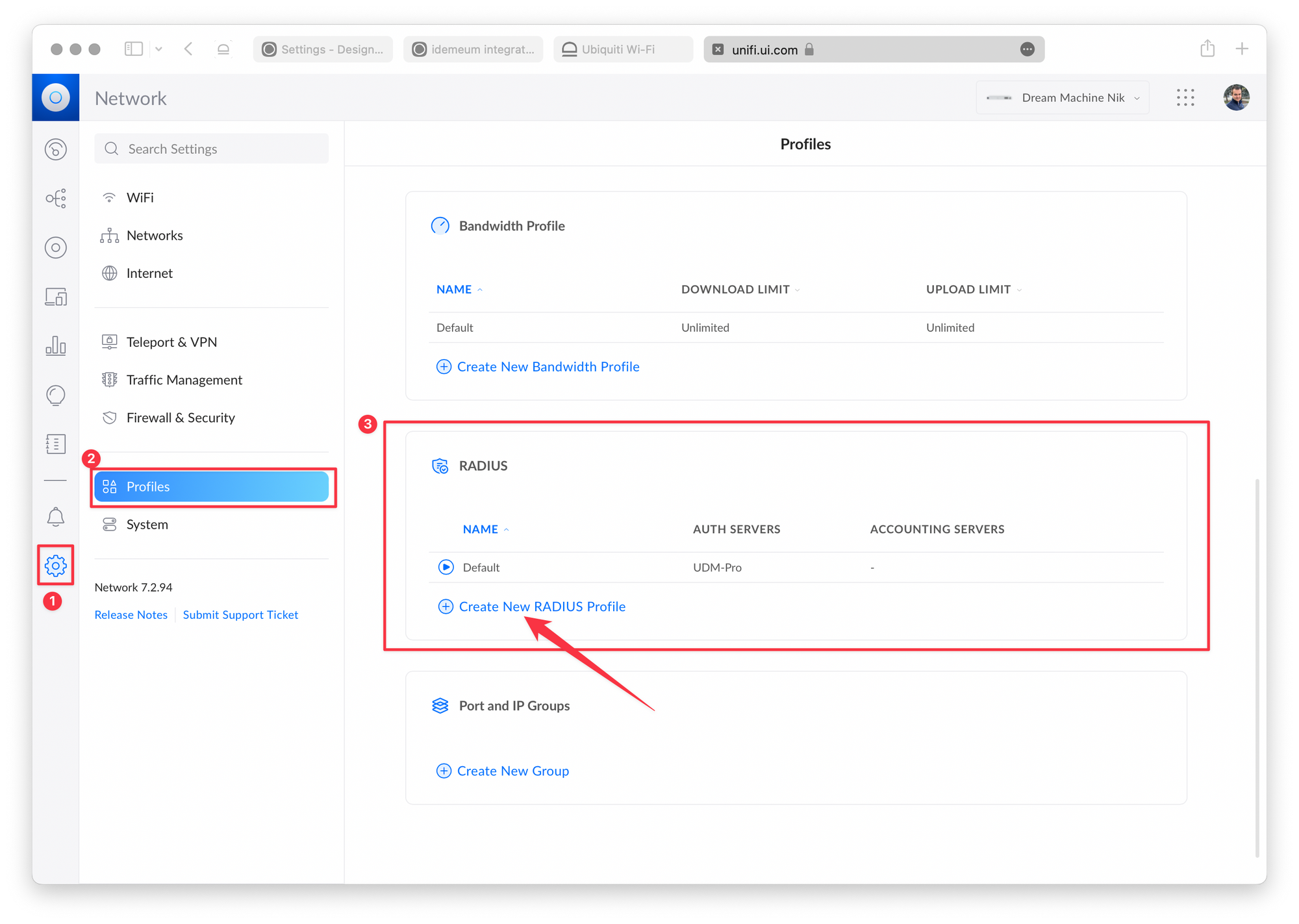 Enter Name
Enable profile for Wireless networks
Enter the IP address of idemeum Cloud Radius and secret that you generated earlier in idemeum. For port use port 1812.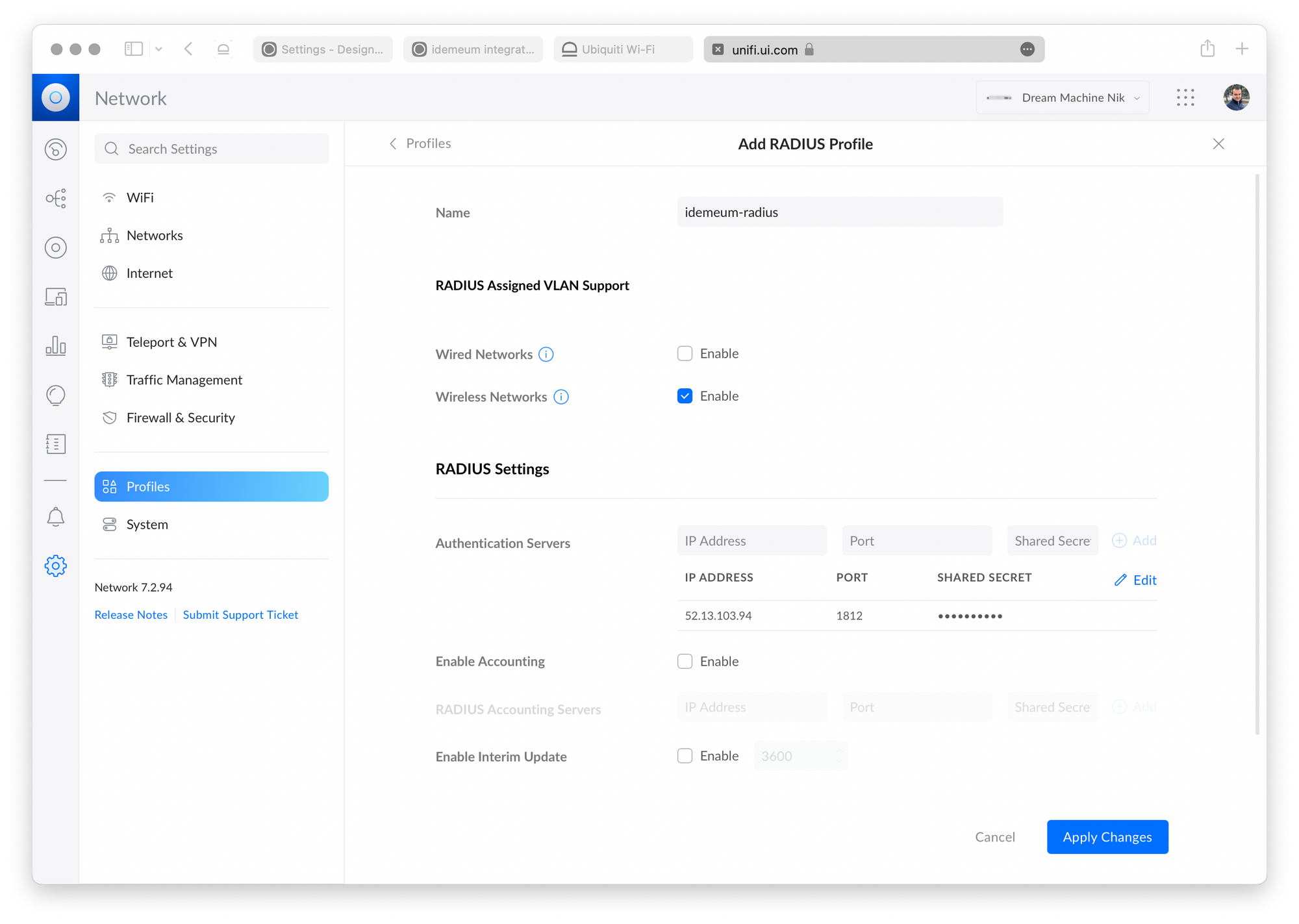 Click Add then Apply changes
Access Settings -> WiFi and choose the Wi-Fi that you want to secure with Passwordless MFA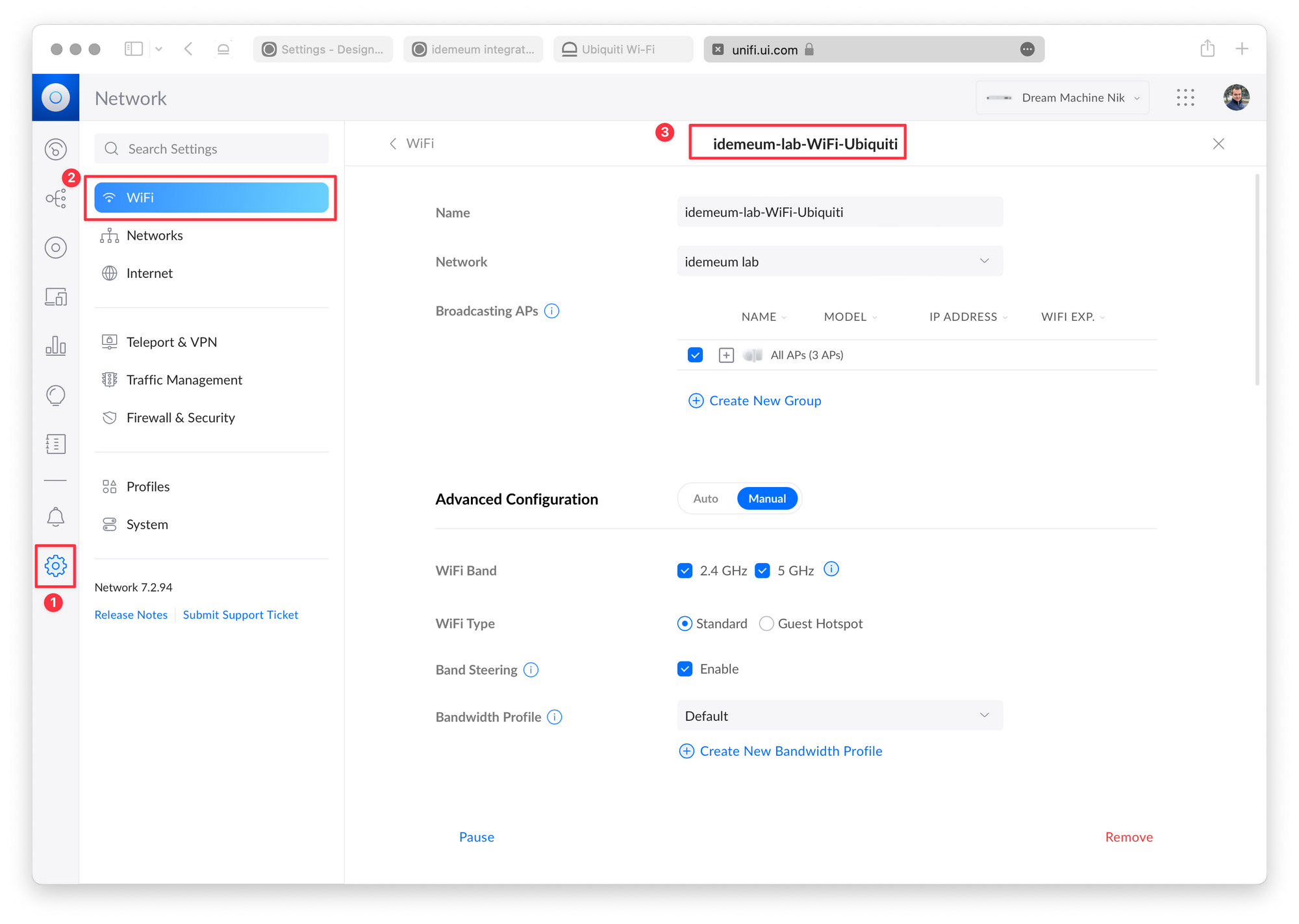 Scroll down t0 Security section
Choose WPA2 Enterprise and select Radius profile that you created before